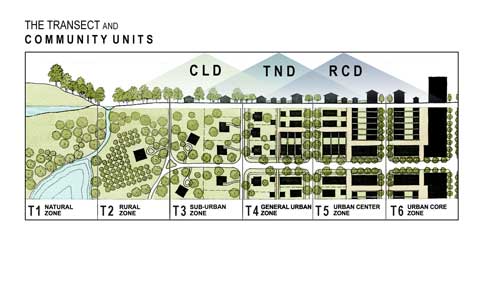 Transect Diagram by DPZ & Company, modified by S. Sorlien 2010.
Please visit the Center for Applied Transect Studies and Smartcode Local for information about planning for walkable neighborhoods, including downtowns. A transect is a cut or path through the environment. In each town or city, we sample (by measuring and photographing) the DNA of the best parts of their local rural-to-urban transect. That's what New Urbanists use to customize a new zoning or design code to replace dysfunctional separated-use zoning. Identifying changes along a transect allows us to protect and create distinct habitats within walking distance of each other, from farmlands to the center of town.
Follow the Street Trip blog for day-to-day adventures along the Transect.

Links to Sandy's books:
Fifty Houses
Imagining Antarctica

---
contact: sandysorlien@comcast.net
---
Center for Applied Transect Studies
---
Sandy's Blog:
STREET TRIP
---
Sandy's Business:
SMARTCODE LOCAL
---
All photographs
©2006 Sandy Sorlien.